Posts for: April, 2021
By Just 4 Kids Dentistry
April 12, 2021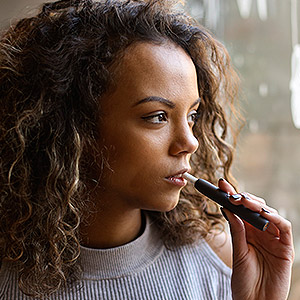 It wasn't too many years ago that e-cigarettes were promoted as a healthier alternative to traditional cigarettes. "Vaping" was in and "smoking" was out.
But vaping's recent link with certain lung disorders, especially among younger users, has slowed the promotion train down considerably. And if respiratory health isn't enough, there's another reason to be wary of the practice—it's possible effect on oral health.
An e-cigarette is a handheld device with a reservoir that holds a mixture of water, flavoring, nicotine and other chemicals. The device heats up the liquid to transform it into a vapor that's then inhaled by the user. Technically, the vapor is an aerosol, a gaseous substance containing solid particles from chemical compounds.
Within this aerosol are a number of ingredients that can have a harmful effect on your teeth and gums. Foremost among them is nicotine, a chemical that's also a major ingredient in regular tobacco. Nicotine causes constriction of blood vessels, including those supplying the teeth and gums.
As these vessels constrict, they deliver to the teeth and gums fewer nutrients and antibodies to control infection. As a result, users of nicotine products, whether tobacco or e-cigarettes, will have a compounded risk for dental disease over a non-user.
E-cigarettes may in fact be worse than regular cigarettes in regards to nicotine. Cigarette nicotine is primarily inhaled into the lungs, while e-cigarette nicotine is absorbed by the mouth's mucous membranes, a much more efficient transfer. It's estimated that the amount of nicotine in one e-cigarette cartridge equals the nicotine from 20 cigarettes.
Nicotine isn't the only ingredient in e-cigarettes that could harm your mouth. Chemicals within the flavorings can irritate and dry out the mucous membranes of the mouth, as well as damage tooth enamel. There are a variety of other chemicals present like formaldehyde that could raise your risk for oral cancer.
Rather than a healthy alternative to smoking, e-cigarette users may simply be trading one form of health risk for another—and, in the case of your oral health, just as bad or worse. The best alternative for healthier teeth and gums is to leave both habits—smoking and vaping—far behind.
If you would like more information on vaping and oral health, please contact us or schedule an appointment for a consultation. You can also learn more about this topic by reading the Dear Doctor magazine article "Vaping and Oral Health."
By Just 4 Kids Dentistry
April 02, 2021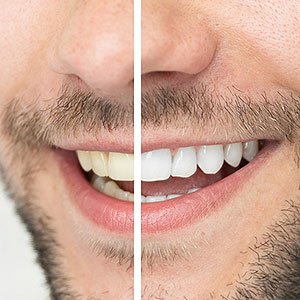 Picture yourself with a beautiful smile…what do you see? Besides straight and uniform teeth framed by the gums, you should also see one other thing indicative of a great smile—your teeth an attractive shade of translucent white.
But as you age your teeth can begin to dull as the enamel loses its translucency and the underlying dentin thickens and yellows. You no longer have the bright smile you once had in younger days.
But if the discoloration is mainly on the outer enamel, teeth whitening could be your answer for regaining your youthful smile. This is a procedure in which we apply a solution containing a bleaching agent (usually hydrogen peroxide) to your teeth. Aided by heat or light to activate it, the solution can temporarily whiten the enamel.
Teeth whitening isn't an exclusive treatment provided by a dentist—there are a number of retail products that enable you to bleach your teeth at home. But there are distinct advantages to having your teeth professionally whitened.
For one, we can control the level of brightness by adjusting the strength of the bleaching solution. This allows you to achieve the kind of look you want—from a more natural and subtler shade to a more dazzling color often called "Hollywood White."
Any external teeth whitening application will fade with time, regardless of whether they're professional or DIY. But a dental office whitening may last longer due to our stronger solutions and curing techniques. And, by caring for your whitening (by avoiding tobacco and food items that stain teeth) and obtaining occasional touch-ups in our office, the shine could last for a few years.
Again, this particular whitening technique only works with outer staining and yellowing. If your discoloration originates from inside the teeth, you'll need a more invasive method. And your teeth should be reasonably healthy before undergoing whitening.
All in all, though, teeth whitening is an easy and affordable way to brighten your smile. It could help you take years off your appearance.
If you would like more information on teeth whitening, please contact us or schedule an appointment for a consultation. You can also learn more about this topic by reading the Dear Doctor magazine article "Teeth Whitening: Brighter, Lighter, Whiter…."