Posts for: September, 2020
By Just 4 Kids Dentistry
September 19, 2020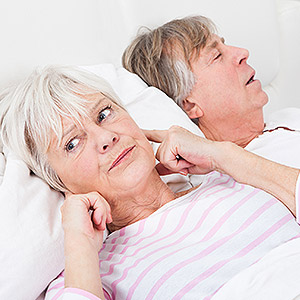 A full night's sleep isn't a luxury—we all need it for a healthy mind and body. But 50-70 million people in the U.S. aren't getting enough sleep because of a chronic sleep disorder like obstructive sleep apnea (OSA).
OSA happens when a sleeper's airway becomes blocked (most commonly by the tongue), cutting off oxygen to the brain. The body rouses from sleep to overcome the blockage. This awakening could last only a few seconds, after which the person immediately goes back to sleep. But it can occur hundreds of times a night and interrupt deeper sleep needed for a good night's rest.
Sleep disorders like OSA are a significant medical problem that could contribute to serious health issues like high blood pressure or cardiovascular disease. If you're experiencing fatigue, irritability or your family's complaints of you snoring, you should see a physician for diagnosis and treatment options.
You should also consider another health professional who could be helpful in dealing with OSA—and may even be able to provide a treatment option: your dentist. Here's how.
A dentist could discover your OSA. Because of twice-a-year dental visits, dentists often see patients more frequently than other healthcare providers. A properly trained dentist could pick up on signs and symptoms of sleep disorder, including patients falling asleep and even snoring while in the dentist's chair.
Dentists are familiar with the mouth. Few healthcare providers focus on the oral cavity like dentists. Besides the teeth and gums, dentists also have extensive knowledge of the tonsils, uvula and tongue that often play a role in sleep disorders. As such, a dentist may notice abnormalities during routine exams that might contribute to airway obstruction during sleep.
Dentists provide a treatment option. Many OSA patients use a CPAP mask to maintain an open airway during sleep. But CPAP therapy can be uncomfortable for some. For mild to moderate cases of OSA, dentists can create an oral appliance based on the patient's mouth dimensions that prevents the tongue from sinking back into the throat.
If you believe you may have OSA or a similar sleep disorder, by all means speak with your doctor. But also mention it to your dentist—your dental provider might hold the key to a better night's sleep.
If you would like more information on how we could help with your sleep apnea symptoms, please contact us or schedule an appointment for a consultation. You can also learn more about this topic by reading the Dear Doctor magazine article "Sleep Disorders & Dentistry."
By Just 4 Kids Dentistry
September 09, 2020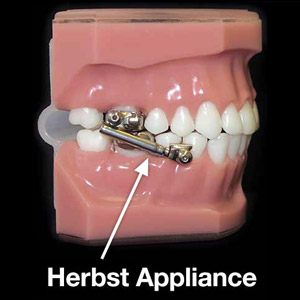 Each year, millions of children and teenagers wear braces or clear aligners to straighten a crooked smile. But there may be a way to treat some of these bite problems and avoid braces—by intercepting the problem at an earlier age.
This can often be done if the bite problem stems from abnormal jaw development rather than misaligned teeth. An example of this occurs when the upper jaw growth outpaces the lower jaw, causing the upper teeth to protrude beyond the lower teeth. Aside from the effect on appearance, protruding front upper teeth may extend beyond the protection of the lip and be more prone to injury.
A device called a Herbst appliance could prevent this from happening. The top of the device has two hinged metal tubes that connect to elastic bands bonded to the back teeth on both sides of the upper jaw. The bottom also has tubes affixed in the same way to the bottom teeth, except they're slightly smaller and fit within the upper tubes.
The lower tubes sliding within the upper tubes produces slight pressure against the lower jaw to ease it forward. This gradually influences the lower jaw to grow at a pace equal with the upper jaw to decrease the chances of poor bite development. Unlike other corrective methods, the Herbst appliance fixed in place and out of the way won't interfere with sports or other physical activities.
An installed Herbst appliance may change a patient's sensations during swallowing, eating or speaking, but most children adapt to the changes within a few days. And, because the device can create challenges for keeping the back teeth clean, many dentists recommend adding a fluoride rinse to daily brushing and flossing as an added boost against tooth decay.
The Herbst appliance is most effective during the period of most rapid physical growth between the ages of 11 and 14, but if the teeth are already beginning to protrude it can be undertaken as early as 8 or 9. Either way, this important orthodontic tool could help address a complicated bite problem and reduce the need for more costly orthodontic treatment later on.
If you would like more information on early interventions for poor bites, please contact us or schedule an appointment for a consultation. You can also learn more about this topic by reading the Dear Doctor magazine article "The Herbst Appliance."