Posts for: December, 2017
By Just 4 Kids Dentistry
December 21, 2017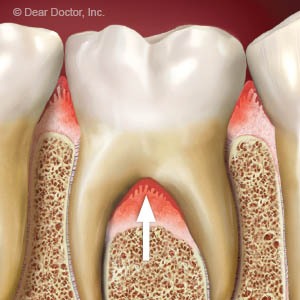 Periodontal (gum) disease causes more than simple gum swelling—this bacterial infection can harm and destroy your teeth's supporting structures, including the bone. Its aggressiveness sometimes requires equally aggressive treatment.
Gum disease usually begins with dental plaque, a thin film of bacteria and food particles on tooth and gum surfaces. Without proper oral hygiene plaque builds up with large populations of bacteria that can trigger an infection.
The growth of this disease is often "silent," meaning it may initially show no symptoms. If it does, it will normally be reddened, swollen and/or bleeding gums, and sometimes pain. A loose tooth is often a late sign the disease has severely damaged the gum ligaments and supporting bone, making tooth loss a distinct possibility.
If you're diagnosed with gum disease, there is one primary treatment strategy—remove all detected plaque and calculus (tartar) from tooth and gum surfaces. This can take several sessions because as the gums begin responding to treatment and are less inflamed, more plaque and calculus may be discovered.
Plaque removal can involve various techniques depending on the depth of the infection within the gums. For surfaces above or just below the gum line, we often use a technique called scaling: manually removing plaque and calculus with specialized instruments called scalers. If the infection has progressed well below the gum line we may also use root planing, a technique for "shaving" plaque from root surfaces.
Once infection reaches these deeper levels it's often difficult to access. Getting to it may require a surgical procedure known as flap surgery. We make incisions in the gums to form what looks like the flap of an envelope. By retracting this "flap" we can then access the root area of the tooth. After thoroughly cleansing the area of infection, we can do regenerative procedures to regain lost attachment. Then we suture the flap of gum tissue back into place.
Whatever its stage of development, it's important to begin treatment of gum disease as soon as it's detected. The earlier we can arrest its spread, the less likely we'll need to employ these more invasive procedures. If you see any signs of gum disease as mentioned before, contact us as soon as possible for a full examination.
If you would like more information on preventing and treating gum disease, please contact us or schedule an appointment for a consultation. You can also learn more about this topic by reading the Dear Doctor magazine article "Treating Difficult Areas of Periodontal Disease."
By Just 4 Kids Dentistry
December 06, 2017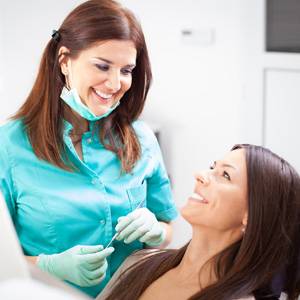 While it may not be one of your favorite features in the dental office, the dental drill is nevertheless necessary for treating problem teeth. It's used primarily for removing decayed or damaged structure and preparing a tooth for fillings or other restorations.
Dental drills have been used for decades and are quite effective — but they have their drawbacks. Their rotating burrs often remove portions of healthy tooth structure along with decayed material. Friction from the drill action can cause discomfort, so local anesthesia is usually needed. Drills can also emit a high-pitched machine noise that's unsettling to many patients.
There's a growing alternative to the drill, known as air abrasion. Although the technology has been around since the 1950s, the development of new suction pumps that capture the resulting dust from its use has made it more palatable as an option to the traditional drill.
Also known as particle abrasion, the technique uses a pressurized stream of fine particles (usually aluminum oxide, an abrasive powder) directed at teeth to wear away (abrade) the tooth's structural surface. We can be quite precise in the amount of surface material removed, so it's useful for diminishing stains or roughing the surface for bonding materials like composite resin. We're also able to remove decayed material with very little impact on surrounding healthy structure, and you may not need anesthesia during the procedure.
While this quiet alternative to the noisier drill is quite versatile, it does have its limitations. It's not that efficient for preparing larger cavities for restoration or for removing older amalgam fillings. The teeth to be treated must be carefully isolated to prevent the fine particle dust produced from being swallowed by the patient or spread into the air. High-volume suction equipment is a must or the procedure will create a "sandstorm" of particles in the room.
Still, for situations suited to it and with proper isolation measures, air abrasion can be effective and comfortable. If the technology continues to improve, the dental drill may soon become a relic of the past.
If you would like more information on procedures using air abrasion, please contact us or schedule an appointment for a consultation. You can also learn more about this topic by reading the Dear Doctor magazine article "Air Abrasion Technology."